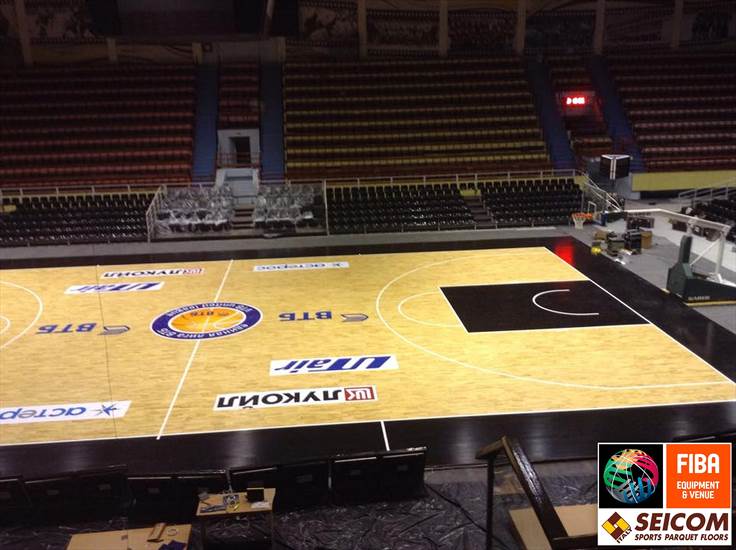 RUSSIA Saratov new Seicom Portable Floor Arena
RUSSIA
SARATOV, November 2014 - team - Avtodor, VTB LEAGUE
Arena - ice hockey arena "kristall"
PORTABLE FLOOR
BORMIO
VTB United League (rus.: Единая Лига ВТБ), is an important competition for basketball Clubs.
Thanks to this remarkable installation our Company enters the huge and important Russian market with a leading role. Other smaller projects had been accomplished in the past, but this is definitely the most important reference.
This
Portable Floor
is our model BORMIO, a floor that''s been used for over twenty years so far for big multi functional sport halls.
In 2004 the
Portable Floor Parquet
model BORMIO starred at the final Olympic game in Greece; in 2007 won first division volley with Yamamay in Italy; in 2008 it was installed in Cantů at Palapianella for the Italian first division; in 2009 starred in Nigeria for the main arena of Benua State, in 2010 in Zambia for the Afrian Cup and in 2013 in Hungary with 1.800 sq m we supplied in Nyíregyháza for Hungarian First Division.
Two more portable floors made by Seicom
are currently in progress and will be used in ZIMBABWE for the African Union Sports Council Region V Under 20 Youth Games.
The Portable Parquet Floor model BORMIO is completely manufactured by our company, in every single element, it''s a very robust floor, suitable in case of frequent removal and re-installation; this system comes from many years of research and constant technical improvement. Sports parquet floor model BORMIO is certifried according to EN 14904, FIBA, CE MARK.
Thanks to its flexibility and strength properties it''s classified by as
PARQUET FIBA Level 1
(Official Basketball Rules 2014) Portable Floor
Here are the main requirements
PARQUET FIBA
for a level one Portable Floor (International standard)
-FORCE REDUCTION EN 14808 min 40%
-VERTICAL DEFORMATION EN 14809 min 1,5 mm - max 5,0 mm
-VERTICAL BALL BEHAVIOUR EN 12235 min 93%
-SLIDING PROPERTIES EN EN 14903 min 0,4 - max 0,7
"Russia is a big country, with a great sport culture coming from the past. Basketball is very popular, we're glad that the Sports Parquet Floors made in Italy, indeed made by Seicom, are used for a competition level."
Aldo Cammarata
MODELLO BORMIO (FIBA CERTIFICATE)
Suitable for big multi-functional facilities; this sports floor can be easily removed and is therefore recommended in case the surface needs to be used for trade fairs, concerts, events without the risk of damaging the parquet.
This kind of floor was supplied in occasion of Athens 2004 Olympic Games, including the Final Games, and is still used for international as well as Euro league at Athens' Olympic Sports Center.
Model Bormio bears several international references, since Seicom has a thirty-year experience in manufacturing sports floors made of portable modules.
SEICOM INTERNATIONAL REFERENCES
Munich Germany FIBA 1999 Final Four
POLAND 1999 – Wroclaw - Hala Ludowa portable floor model BORMIO 1000 sqm
POLAND EUROPEAN CHAMPIONSHIP WOMEN 1999 in Katowice
CZECH REPUBLIC Brno FIBA FINAL FOUR WOMEN 1999
ATHENS GREECE OAKA Olympic Indoor Hall OLIMPIC GAMES 2004
BELGIUM Sport hall Antwerpen
BELGIUM Palaexpo Gand
BELGIUM Sarttilman Leigi
BELGIUM Forum Aalst
SWISS Palabasket Bellinzona (Canton Ticino)
HOLLAND Sport hall Zoetermeer
URUGUAY Sport hall Slinger Park Montevideo
SERBIA Beograd Palasport Kovilovo sports center
MONTENEGRO Sport hall basketball Podgorica
ROMANIA Arad - sports parquet floor
ROMANIA Oradea - Arena Antonio Alexe – portable floor 2.000 sqm
ROMANIA Târgu Mureş - Marosvásárhely
HUNGARY Siófok - sport parquet for handball - NEW MODEL TRENTO SOLID
HUNGARY BUDAPEST Újpest sport hall
HUNGARY Nyíregyháza manufacture and installation of portable floor 1800 sqm
MALTA - new parquet Ta' Qali sport hall
CYPRUS Paphos – Sport parquet Aphrodite Sport hall
BULGARIA Varna - new sport floor Varna University
IRAQ Duhok City 2011- New Sport parquet model Sondrio
JORDAN Amman - ASU Applied Science University
SAUDI ARABIA Sport hall King Saud University
NIGERIA Sport Hall Benua State
TURKEY 2013 MERSIN - SPORT PARQUET MERSIN UNIVERSITY XVII Mediterranean Games
TURKEY Izmir – 2011 Aliaga Arena - new sports parquet floor
TURKEY Gaziantep - 2012 sport hall
SLOVENIJA Semedela / Koper - Primary school "Dušan Bordon"
SLOVENIJA Maribor - August 2012 New sport parquet multi-sport hall
SOUTH AFRICA 2014 American International School of Johannesburg
BELARUS 2014 Minsk new sport gym with model Sondrio 2
RUSSIA 2014 Saratov VTB LEAGUE Arena ice hockey (arena Kristall) Team Avtodor
ZIMBABWE 2014 African Union Sports Council Region V Under 20 Youth Games (official supplier 2 portable BORMIO)